Do you want straighter, healthier teeth, but dread the thought of having a mouthful of metal wires and braces from traditional braces? At PA Dental Arts, we're proud to offer our patients invisible orthodontics for a straighter smile with Invisalign in Allen. This system of clear removable aligners offers a comfortable, convenient, and efficient treatment without all the hassles that come with traditional braces. Keep reading to learn more about this modern-day orthodontic solution and give us a call to schedule your consultation.
How Invisalign Works
First, we'll take impressions of your teeth. This information will be used to create an entire series of custom aligners that gradually corrects your orthodontic issues. In many cases, we'll also put small, virtually invisible pieces of white filling material on your teeth. These help the aligners connect snugly to your teeth and encourage better, faster results. These "attachments" don't harm your teeth and will be smoothed away at the end of your treatment, so you'd never know they were even there in the first place.
 You'll wear each set of aligners for 20-22 hours a day for about two weeks, taking them out only to clean your smile, eat, drink, and for special occasions. Then, you'll move onto the next set of aligners in the series and repeat the process. Periodically, you'll come visit us for a quick checkup so that we can make sure your progress is on track. Some patients can finish their treatment in as little as 6 months, but most will get the results they're looking for in just about a year — which is significantly less time that a traditional treatment with metal braces!
Indications for Invisalign
Getting Invisalign is about so much more than just improving the appearance of your smile. Orthodontic issues can cause serious problems for your teeth, oral health, and general wellbeing. Thankfully, when you get a prettier smile with Invisalign, it will also be healthier and stronger!
While it depends on the complexity of the issue, you're facing Invisalign can be used to treat many of the most common orthodontic problems, including:
Crowded Teeth
When teeth begin to erupt and little space is available, this can cause your other teeth to shift and become crowded. This creates problems when trying to keep your mouth clean and healthy. Brushing and flossing become less effective, and you become more vulnerable to decay and disease. Fortunately, Invisalign in Allen is an effective method to treat crowded teeth. Using clear aligners, they can shift your teeth in a way that brings them into proper alignment and give your smile the space it needs.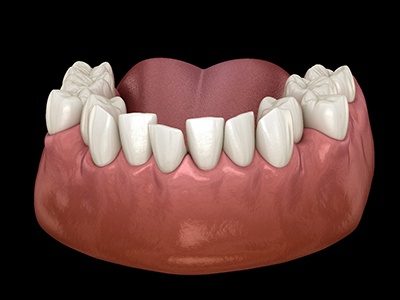 Gaps Between Teeth
Teeth that are too far apart can cause problems for much more than just your looks and your self-confidence. Theses empty, hard-to-brush spaces also provide an excellent hiding place for bacteria and food particles, where they accumulate and dramatically increase your risk of issues like cavities and gum disease. Depending on the amount of space involved, Invisalign can close these gaps.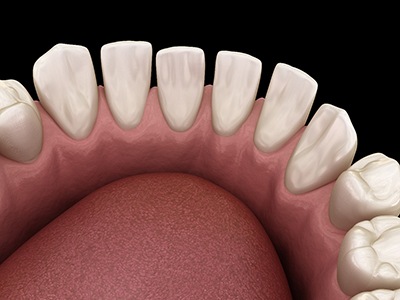 Bite Alignment
Are you suffering from an underbite, overbite or crossbite? These bite alignment problems can make your appearance look unbalanced, but more than that, they can place a tremendous amount of excess pressure on your jaw joints. In turn, this can lead to a whole host of serious issues, like extra wear and tear on your teeth, grinding and clenching your jaw at night, or even TMJ disorder. Thankfully, many cases of mild to moderate bite issues can be corrected with Invisalign!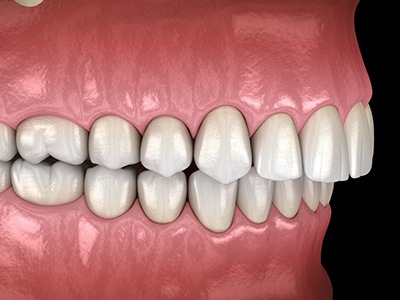 The Benefits of Invisalign
Invisalign is quickly becoming one of the most popular orthodontic treatments available, and it's easy to see why! This unique service offers important advantages over traditional metal braces, like:
Clear aligners: The clear plastic that makes up your aligners is hardly detectable by others, allowing you to smile with confidence while wearing them.
No diet changes: You can eat whatever you like during your Invisalign treatment because the aligners must be removed prior to eating or drinking.
Metal-free: Clear plastic aligners are also the ideal choice for patients with metal allergies or sensitivities.
Faster results: You can expect to achieve a straighter smile in just 6-18 months, as compared to 2-3 years with traditional braces.
Easy to clean: All you need is a toothbrush, clear soap, and lukewarm water to keep your aligners clean. No complicated floss threaders or extra tools!
No irritation: Unlike traditional braces that rub against your lips and cheeks, Invisalign is smooth, so there is no irritation to your soft tissues, offering a much more comfortable straightening experience.
Fewer dental visits: With Invisalign, your scheduled appointments will not only be fewer than those needed with metal braces, but quicker too!
How Much Does Invisalign Cost?
If you are considering Invisalign in Allen, you've come to the right place. At P.A. Dental Arts, Dr. Blacher and her team are ready to help you fix the problem areas of your smile and put you on a path to better oral health and a more aesthetically pleasing appearance. But how much will it cost? Invisalign could be more affordable than you think! It all depends on your individual case and several different factors. Fortunately, there are ways we can help you achieve desired results while sticking to your budget. To find out more about the factors that contribute to your Invisalign care, contact us today!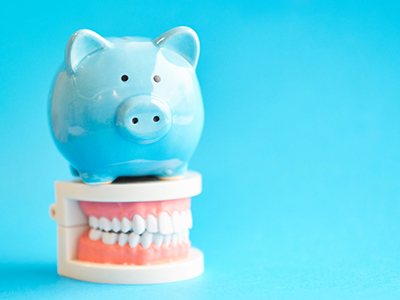 Invisalign Special!
Right now, you will be pleased to learn that P.A. Dental Arts is running a special with Lending Point that will have you making payments as low as $106 per month for Invisalign! This special pricing gives you the opportunity to say "yes" to a new smile without having to empty your wallet.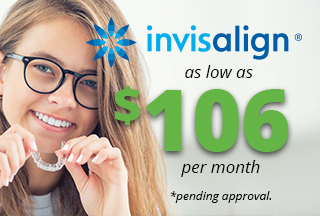 What Factors Influence the Cost of Invisalign?
It is easy to assume that the only real cost factor associated with Invisalign is the aligners you receive. In actuality, there are many things that must be considered in order to formulate a clear cost estimate. Some of these include:
Whether you will need pre-orthodontic treatment (i.e. periodontal therapy, tooth extraction)
Whether you will need a top or bottom aligner or both
How many aligners it will take to complete treatment successfully
How severe your dental problem is in the beginning
The retainer you will receive when finished with treatment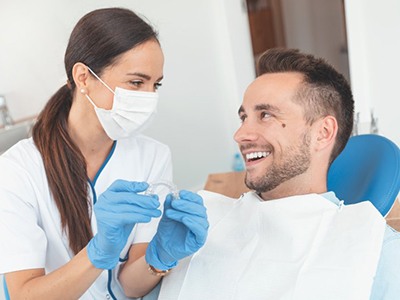 The Importance of Your Initial Consultation
During your initial consultation, Dr. Blacher will first take the time to get to know what your personal goals are for a straighter smile and improved appearance. After she examines your teeth, gums, and jaw, she will create a personalized treatment plan that includes taking impressions of your teeth and sending them off to a lab where technicians will create your customized aligners.
This visit is crucial to establishing a clear understanding of how your Invisalign treatment will work. Everything from the process to maintenance to aftercare will be discussed as well as the cost. It is during this appointment that you are encouraged to ask questions, express concerns, and inquire about any additional aspects of Invisalign treatment. Dr. Blacher will also review what you can expect to pay for your Invisalign treatment and all your options for making your new smile as affordable as possible.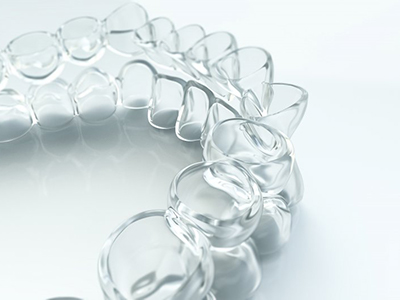 Invisalign Vs Mail-In Aligners
If you've been on social media lately, you've likely seen posts and ads for clear aligners you can order in the mail and straighten your teeth with having to set foot in a dental office. They are similar to Invisalign in that they take impressions of your teeth and send you aligners that reposition your smile. However, these knock-off products don't complete any additional assessments, like gum exams or x-rays. Additionally, there is no professional oversight from a dentist to ensure your treatment is progressing smoothly. As a result, far too many people who experiment with mail-in aligners end up making their smile much worse or causing permanent damage! You're much better off seeing your cosmetic dentist in Allen for professional Invisalign treatment. Your progress will be more closely monitored and significantly safer.
Retainers — Keeping Your Smile Straight for life
Whether you get braces or Invisalign in Allen, you will need to wear a retainer afterward to help maintain the results that you achieved by wearing your aligners. Depending on your needs, you may need to wear one only at night while you sleep, or you may also be eligible for a permanent retainer. As you get closer to wearing your last set of aligners in your treatment, we'll discuss all of your options with you.
Invisalign FAQs
Choosing to commit to an Invisalign treatment is a big decision, so it's likely that you have some questions that need answers before you're ready to begin. That's why we've gathered some of the most frequently asked questions we get about Invisalign in Allen below. If you don't see the answers you're looking for, don't hesitate to give us a call and we'll be more than happy to help!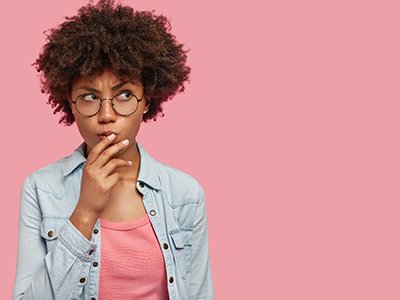 Does Invisalign Hurt?
Invisalign clear aligners work by applying a gentle pressure on your teeth to shift them into the proper position. As a result, when you first begin treatment or switch to a new set of aligners in the series, you may experience mild soreness or discomfort as your teeth get adjusted to the new appliance. However, this feeling should subside after a few days. In the meantime, you can take an over-the-counter pain medication like ibuprofen to help soothe the discomfort.
Can Teens Get Invisalign?
Since teens can already be incredibly self-conscious about their appearance, they may not want to deal with wearing bulky metal braces and opt for Invisalign instead. Luckily, a special treatment called Invisalign Teen exists, designed to correct crooked smiles in the younger population. The main difference from adult Invisalign treatment is that Invisalign Teen aligners come with blue indicators to help keep track of how much they have been wearing them. Since teenagers are more likely to set their aligners down and forget to place them back in, it's imperative that they be responsible enough to handle treatment.
Does Invisalign Restrict My Diet?
Not at all! One main advantage of Invisalign over braces is that you don't have to limit what foods you eat in any way. When it's time for a meal or snack, simply remove your aligners and eat. Keep in mind, though, that you'll have to brush your teeth after eating and before placing the aligners back in your mouth. This will prevent your trays from becoming dirty, which can result in stains and infections.
How Can I Clean My Aligners?
Every morning, brush both your teeth and your aligners to remove any bacteria that may have accumulated during the night. Every time you take your aligners out to eat, rinse them off with warm water. However, never use hot water, as it could change the shape of the plastic and jeopardize your treatment. You can also soak them while you're not wearing them. Lastly, be sure to brush your teeth between eating and putting your aligners back in.
Can Invisalign Fix TMD?
If your TMD is caused by a bite problem like overbite, underbite, or crossbite, Invisalign trays can help. As soon as you notice problems with teeth grinding, jaw clicking, or begin having difficulty chewing, be sure to contact our office immediately.