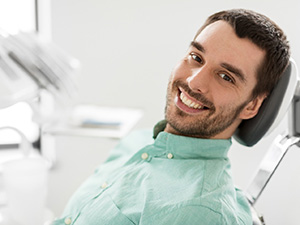 Sedation Dentistry – Allen, TX
Sit Back and Get Comfortable
Your personal comfort is always high on our list of priorities, whether
you're just visiting for a checkup or need a lengthier treatment done. If you suffer from dental phobia or experience strong anxieties whenever you visit the dentist, Dr. Blacher may suggest having nitrous oxide sedation or oral conscious sedation administered at your next appointment. It could be exactly what you need for a stress-free dental experience.
Contact us
to learn more about your sedation options at P.A. Dental Arts.
Nitrous Oxide Sedation
Nitrous oxide is one of the most commonly used forms of sedation in dentistry. It's the mildest kind of sedation we can offer, suitable for helping patients who are only a little nervous or just need help relaxing for a more extensive visit. To administer nitrous oxide, we'll place a small mask over your nose. Once we turn on the machine, you'll breathe in the sedative along with oxygen; the result will be a feeling of lightness and euphoria that causes your anxieties to fade away. As we're treating your smile, we can take note of your comfort levels and adjust the level sedation as we need to.
Unlike other types of dental sedation, the effects of nitrous oxide will dissipate quickly once the mask is removed. It won't be long before you reach a point where you can drive yourself home or return to work; you won't have to ask a friend to give you a ride or plan on resting for the remainder of the day.
Oral Conscious Sedation
Oral conscious sedation is a stronger form of sedation dentistry in Allen that's usually recommended for patients who are so afraid of dental care that they often end up avoiding their appointments altogether. You'll be prescribed a sedative pill to take before you arrive your appointment. By the time treatment begins, you'll be in an advanced state of relaxation. You'll be awake enough to respond to questions, but you may not remember anything that happened while you were under the effects of the sedative.
Patients need to plan on having a friend or family member drive them to and from any appointment where oral conscious sedation is used. Most people need at least 12 hours of rest to fully recover from the effects, so you'll probably want to consider taking a day off from work or school.
Am I a Good Candidate for Sedation Dentistry?
Sedation dentistry is a viable option for most healthy adults. It may be appropriate for you if you:
Have an unusually sensitive gag reflex that routinely gets in the way of care.
Have any physical disability that can make getting dental care uncomfortable.
Have mild, moderate, or severe dental anxiety that causes you to avoid oral healthcare.
Are planning to have multiple treatments done in one visit.
Are afraid of needles.
Have had a traumatic experience at a different dental practice.
If you share your medical and health history with us, we can help you determine whether sedation dentistry is right for you.