If you're missing several or even all of your natural teeth, then you already know how inconvenient and frustrating tooth loss can make your day-to-day life. Speaking clearly, eating comfortably, and smiling confidently can feel difficult at best and impossible at worst. Our team at P.A. Dental Arts is ready to give you a second chance for a complete smile with personalized dentures in Allen, TX. These tooth replacements have become more reliable, functional, and lifelike than ever before, and we can't wait to let you see for yourself! Call us today to set up your consultation.
Who Is a Good Candidate for Dentures?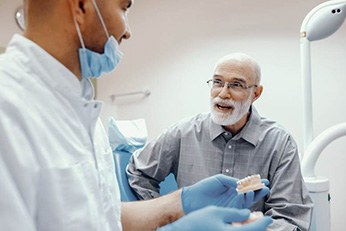 Whether you've lost a few teeth or an entire row, dentures are a versatile choice for replacing missing teeth. Generally, the only prerequisite to getting dentures is having a healthy mouth. If you have untreated gum disease, or decay in your remaining teeth, wearing dentures may be uncomfortable and even put your oral health at serious risk. For this reason, Dr. Christina Blacher or Dr. Yeri Guak will screen you for any existing oral problems during your consultation. Once we've addressed any pressing concerns, we can move forward with the tooth replacement process.
Types of Dentures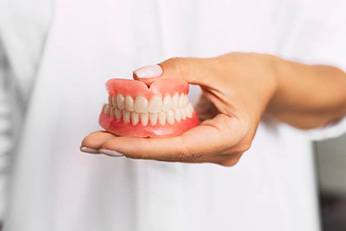 Depending on the state of your oral health, as well as your unique needs and preferences, your dentist in Allen may recommend a specific kind of denture to rebuild your smile. The three main types of dentures are:
Partial Dentures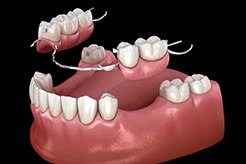 If you have some natural teeth left, a partial denture can seamlessly complete your grin. This prosthetic, sometimes just called a partial, fits behind your remaining teeth using metal clips or clasps, allowing the strategically placed artificial teeth to fill the empty spaces.
Full Dentures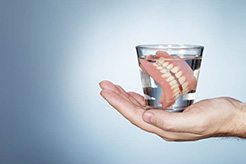 To bring back a whole arch of missing teeth at once, we can place a full denture. Instead of using metal wires, a full denture contains a row of replacement teeth on a pink acrylic base. This base sits on the gums and stays in place with a natural suction force.
Implant Dentures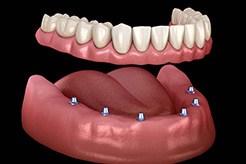 For a truly modern tooth replacement that feels as lifelike as it looks, you'll want an implant denture. We can expertly place anywhere from four to six dental implants along your jaw, where they function just like the roots of real teeth. Therefore, implant dentures renew your chewing power and keep your new teeth from slipping.
The Benefits of Dentures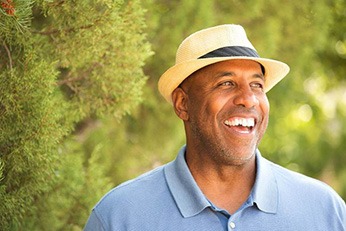 There's a reason why dentures are still popular after decades and even centuries: they work! Some of the benefits of dentures you can look forward to include:
Fast treatment process
Replacement teeth that can last for up to a decade
Easy maintenance
Beautiful, personalized results
Confidence boost
Restored ability to eat a full, nutritious diet
Affordable solution to tooth loss