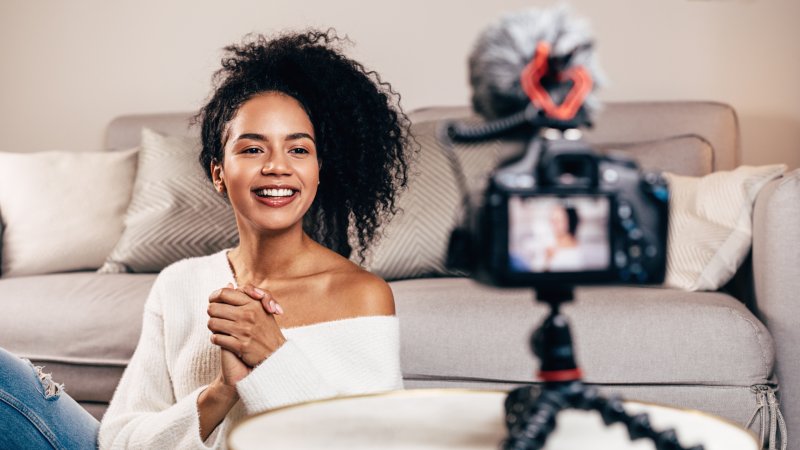 Internet fame has skyrocketed over recent years. Social media platforms like Instagram, TikTok, and YouTube allow normal people to share their talents and stories with viewers all over the world. They transform from "one of us" into someone with international fame overnight. With this newfound notoriety, many celebrities decide to upgrade their look. Though their perfect pearly whites may seem out of reach, cosmetic treatments like veneers are often to thank. Read on to learn about five social media influencers with veneers as well as how they can benefit anyone who is looking to become an internet celebrity.
5 Influencers Who Have Veneers
When your look is essentially the product you're selling, having a bright, uniform grin can be incredibly beneficial. That's why there are so many social media influencers with veneers. A few noteworthy internet stars who have enhanced their smiles with porcelain veneers include:
Gigi Gorgeous
Tana Mongeau
Gabi DeMartino
Jeffree Star
Huda Kattan
How Veneers Can Help You Build Your Brand
Since these popular influencers have huge followings online, there may be something to having a gorgeous grin. If you aspire to gain internet fame, how can these porcelain shells help you reach your goals? A few ways that veneers can benefit someone who wants to grow their online following include:
Natural beauty – To attach your veneers, a thin layer of tooth enamel will be removed. This will allow them to adhere better and will also make them seamlessly blend in with the rest of your smile.
More beautiful photos – Porcelain veneers cover up a range of cosmetic issues, such as cracks, chips, gaps, discoloration, minor alignment issues, and misshapen teeth. This means that they'll make you're smile look brighter and more uniform than ever before.
Long-lasting – Though veneers require permanent alterations to your smile, they can last 15 years or longer with proper care. This can be incredibly beneficial for busy influencers. Caring for your veneers involves brushing twice and flossing once per day, making regular visits to the dentist, and avoiding things that can damage them like eating overly sticky foods and chewing on ice.
As you can see, not even internet stars are born with perfect smiles. With some help from your cosmetic dentist, your smile can look as good as that of your favorite social media influencers with veneers in no time!
About the Practice
If you have gaps, cracks, chips, or other smile issues that need correcting, P. A. Dental Arts offers porcelain veneers that may be just what you need to get your smile on the right track. These thin porcelain shells are an excellent way to fix damaged or imperfect pearly whites in just two appointments. Before you know it, you'll be sporting a gorgeous, uniform, and healthy-looking smile that you'll be proud to show off! Call P. A. Dental Arts' office at (214) 383-5511 or visit their website to learn more about porcelain veneers or to set up an appointment today.