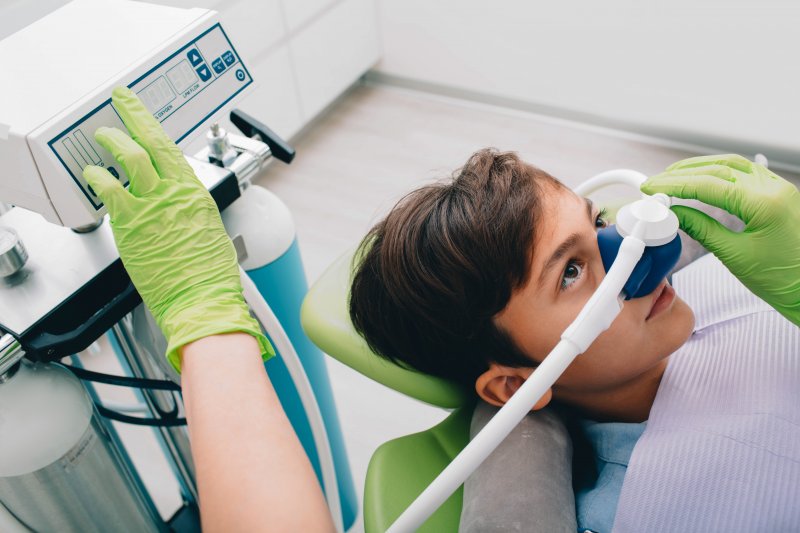 In the United States, roughly 75% of adults suffer from some degree of dental fear or anxiety. Of those people, 5-10% have severe dental phobia. Though this keeps many people from visiting the dentist to receive the treatments they need, nitrous oxide can help patients remain calm and comfortable throughout their appointments. If you've never been given nitrous oxide during a dental appointment before, you may be wondering what it feels like. Does it make you fall asleep? Read on to learn more about the side effects of nitrous oxide sedation.
What is Nitrous Oxide Sedation?
Nitrous oxide is a safe, highly effective, and fast-acting method of dental sedation. A mask is placed over the patient's nose so they can use it to breathe in a mixture of oxygen and nitrous. It's also commonly referred to as "laughing gas" or "happy gas" due to its intoxicating effects.
How Does Nitrous Oxide Make You Feel?
Nitrous oxide works by slowing down the brain and body's reaction time and responses. This causes a feeling of calm and euphoria to wash over you. This method of sedation is best used for people who have a fear of dental procedures or needles, those who have problems sitting in the dental chair for a long time, people with sensitive gag reflexes, and anyone who has issues with local anesthesia.
Will Nitrous Oxide Put You to Sleep?
Nitrous oxide is considered conscious sedation, which means that it won't cause you to fall asleep. You'll be awake and aware of your surroundings throughout treatment. This also means that you can communicate with your dental team during the procedure if need be. Even so, many patients who undergo nitrous oxide sedation don't remember much about their procedure by the time it wears off.
The After-Effects of Nitrous Oxide
Once your treatment has been completed and your dentist removes the nose mask, the effects of nitrous oxide will wear off within a few minutes. Even so, your dentist may have you stay at the office for a few minutes afterward to ensure that you can safely drive home. Once your dentist gives you the okay, you'll be free to resume your regular schedule. Side effects are rare, but make sure to call your dentist right away if something feels off.
Nitrous oxide is a way for uncomfortable or anxious patients to make it through their dental appointments without issue. If you think nitrous oxide sedation may be right for you, speak with your dentist so you can comfortably receive the care you need!
About the Author
Dr. Christina Blacher, Dr. Yeri Guak, and their talented team at P. A. Dental Arts take pride in administering the best available care to residents of the DFW area. Located on the border of Allen and Plano, they offer exceptional care to the whole family. If you're apprehensive about visiting the dentist or need help feeling comfortable throughout treatment, they offer nitrous oxide sedation to allow you to receive the procedures you need stress-free. To make an appointment with P. A. Dental Arts to learn more about nitrous oxide sedation, call their office at (214) 383-5511 or visit their website.