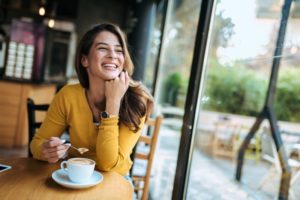 It makes sense why veneers are such a popular cosmetic dental treatment. After all, in as few as two appointments, they can transform your smile and boost your confidence. While one of the best aspects of having veneers is that they can make your smile stunningly white, you need to be motivated to maintain their gleaming appearance. On that note, can you drink coffee with veneers? Keep reading to find out from your cosmetic dentist in Allen.
Stains & Veneers
Dark-pigmented beverages like red wine, cola, tea, and coffee are definitely staining threats to natural teeth. But does that also apply to veneers? They are very durable and stain-resistant compared to your teeth. However, that isn't the same as stain-proof. Over time, a cup of coffee every day can dull them. Temporary veneers stain easier than your long-term ones. It's best to drink coffee in moderation, especially while wearing your temporary set.
How to Respond to Stained Veneers
If your veneers are stained, there's no need to panic because you do have some options. Even though professional whitening treatments aren't effective for veneers, with the help of your cosmetic dentist in Allen, you can consider methods like:
Professional dental cleaning
Specialized toothpaste
Veneer polishing
Reglazing veneers
Replacing veneers
Keys to Maintain a Looks-Like-New Smile
Veneers may not stain as easily as natural teeth, but they can still become discolored over time. Fortunately, you can prevent staining by taking the following precautions:
Maintain good oral hygiene. Brushing twice a day plus flossing and rinsing with an ADA-approved mouthwash daily will eliminate stain-causing particles.
Limit your intake of dark-colored foods and drinks. The best way to avoid a discolored smile is by limiting your consumption of dark-colored foods and drinks like coffee, red wine, tea, and soy sauce. If you choose to consume these items, try to eat or drink them fairly quickly to minimize contact with your veneers!
Avoid smoking & chewing tobacco. It can stain your veneers, causing the edges to look brownish.
So, can you drink coffee with veneers? If you're a coffee-lover, it's best to limit the amount you consume. By cutting back, you can help your veneers stay bright and healthy-looking for many years!
About the Practice
At P.A. Dental Arts, you'll smile with confidence because we'll provide the quality care you can trust. While we work wonders on your teeth, we want you to feel like you're at the spa. You'll enjoy massage chairs with free snacks and coffee while you wait, then soft pillows, warm blankets, TVs, and noise-canceling headphones when it's time for your treatment. If you are interested in veneers in Allen, Dr. Blacher can tell you more about them during a consultation and let you know if you are a viable candidate. Schedule one on our website or by calling (214) 383-5511.