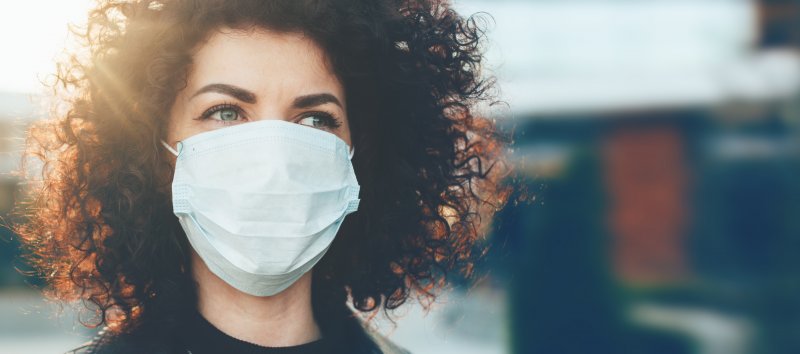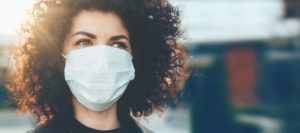 COVID-19 can infect anyone, but it can cause severe illness and even life-threatening complications for certain people. Studies conducted by the Centers for Disease Control and Prevention report that factors like older age, underlying health conditions, and a weakened immune system can put you at a higher risk during the COVID-19 pandemic. Thankfully, there are a variety of ways that local grocery stores, pharmacies, and restaurants are accommodating at-risk patients in Allen. Read on as your Allen dentist answers some common questions about how to stay healthy in your everyday life during the pandemic.
1.) How Does the CDC Recommend Staying Healthy in COVID-19?
There are three simple yet important precautions health experts recommend taking to protect yourself and others from COVID-19. To lower your risk of getting sick, the CDC recommends:
Limiting your potential exposure to the virus by staying home as much as possible.
Practicing social distancing while out in public and avoiding frequently touched surfaces.
Washing your hands for 20-30 seconds regularly throughout the day.
2.) What's the Safest Way to Get Groceries?
Keeping the safety recommendations from the CDC in mind, the best ways to get groceries is via contactless home delivery or curbside pick-up. When shopping in person, try visiting the store during non-busy hours if possible. In fact, some stores offer hours exclusively for at-risk customers to minimize their risk of getting sick.
3.) What Precautions Should I Take When Ordering Takeout?
Similar to getting groceries, the less exposure to others, the better. Many fast food retailers and restaurants are offering no-contact home delivery options. Drive-thrus are another method that can allow you to safely receive your food while keeping your distance. If you choose to support a local restaurant that requires you to go inside to pick up your order, spend as little time inside as you can, stay six feet away from others, and use gloves to touch high-traffic items like pens or doorknobs.
4.) How Can I Safely Get My Prescription Medications?
To keep their at-risk patients safe, many pharmacies are offering drive-thru or curbside pickup options for those who take prescription medications. Some are even offering to mail them to you directly for little or no cost. If your current pharmacy doesn't have these methods available, you can contact your physician and ask them to send your prescription to a pharmacy that does.
5.) Should I Still Go to My Doctor or Dentist Appointment?
If you have a dental or medical appointment coming up, your dentist or doctor may deem it safer for you to have it postponed or changed to a virtual visit. However, if you need to see them in person for treatment , you can rest assured that they are taking every precaution to keep their practice safe. Call your dentist or doctor to find out what the safest course of action is.
It's completely natural to feel concerned during the COVID-19 pandemic, especially if you're an at-risk patient. However, you can feel a little more at-ease by keeping these extra safety precautions in mind during your everyday life!
About the Practice
P.A. Dental Arts is proud to support the health and wellbeing of their patients, staff, and the entire community of Allen, TX. During their temporary closure, Dr. Christina Blacher and her talented team closely monitored the COVID-19 pandemic and the recommendations set forth by the CDC. After careful consideration, a variety of extra precautions have been put in place to keep their practice as clean and safe as possible while providing dental care in the pandemic. If you'd like to learn more, feel free to contact them via their website or at (214) 383-5511.