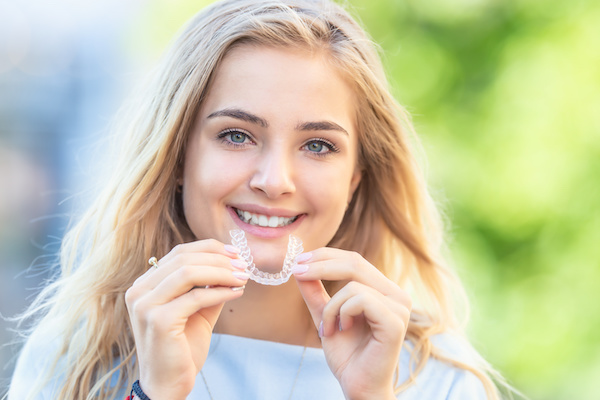 Invisalign is an orthodontic treatment that uses a series of clear plastic trays to gradually shift your teeth into the proper alignment. Most people prefer it hands down to traditional metal braces – especially busy adults who wish for a more subtle treatment option.
If you have chosen Invisalign in Allen to straighten your teeth, you will want to make sure you are taking proper care of the aligners throughout the treatment so as not to experience any delays. Keep reading for five easy tips for taking care of Invisalign and enjoy your new, beautiful smile as soon as possible! 
#1: Clean Properly
For fresh breath, healthy teeth, and aligners that function properly, make sure you are cleaning the trays as instructed by your dentist. Brush them twice a day using Invisalign solution, denture cleaner, or anything else your dentist recommends. Regular toothpaste can damage the plastic, so make sure you're using only Invisalign-approved products.
#2: Store When Not in Use
It's all too easy to damage or lose your aligners if you don't store them properly when you are eating and drinking (the only times they should be out of your mouth, other than cleaning). Use the protective case to ensure that you don't accidentally toss the aligners into the trash, or otherwise damage them.
#3: Eat Normally
Speaking of eating, you don't have to worry about cutting up your food into tiny pieces or avoiding crunchy or sticky foods – as long as you simply remove your aligners before eating anything at all! The fact that you do not have to modify your diet to accommodate Invisalign is one of the many perks of this treatment compared to traditional braces.
#4: Remove Before Drinking, Too
You will want to make sure you take the aligners out before you sip anything except for water, too. Sugars in other beverages can become lodged between the teeth and aligners, increasing your risk for cavities. Colors from beverages can also stain the plastic, which will cause the aligners to lose their subtle appeal.
#5: Plan Accordingly
And, before vacations or any other time you will be out of your normal routine, make sure your plans include how you will continue to comply with your Invisalign treatment. Pack all cleaning supplies and your protective case, set an alarm to remind you to clean your aligners, whatever it takes to ensure you don't fall out of the routine.
And that's it – remember these 5 steps and you will be sure to enjoy an easy, breezy Invisalign treatment so you can enjoy your new, beautiful smile in no time.
Meet the Dentists
Dr. Christina Blacher and Dr. Yeri Guak offer excellent dental care from the state-of-the-art P.A. Dental Arts practice. From porcelain veneers to Invisalign, this duo provides a full range of treatments to help their patients really love their smiles. To learn more about caring for Invisalign or to schedule an appointment with your cosmetic dentist in Allen, give the practice a call at (214) 740-3994.