Get to Know Your Allen Dentist!

Dentistry has the power to change your life for the better, even if it's only through basic cleanings and exams. With Dr. Christina Blacher managing your long-term oral care, you can rest knowing that you're in good hands. As a general dentist, she's prepared to help you and your family get the treatments you need completed in a warm and welcoming dental office. To learn more about her background, feel free to read her detailed bio below!
Why I Became a Dentist
Dr. Christina Blacher has always been passionate about helping people make a real difference in their lives. She works hard to make sure that her patients have an amazing dental experience. Making them feel comfortable is a very high priority, regardless of the type of treatment they may need. Every day is a new opportunity to learn more about her patients' needs and provide the highest quality of dental care possible.
While she ran a private practice in Connecticut, she moved to Texas in order to be closer to her family. She's incredibly proud to be helping Allen families as well as the surrounding communities get the care they need.
My Educational Background
Dr. Blacher attended Hamilton Southeastern High School in Fishers, IN before attending Indiana University in Bloomington. After graduating with a Bachelor of Arts degree in Chemistry, she attended Midwestern University in Glendale, AZ to earn her Doctor of Dental Medicine degree.
Following her academic education, she went on to receive extensive training in many dental topics, including advanced Invisalign training, Botox and dermal fillers for facial pain, and dental implant placement. She is laser certified and considered an Invisalign Preferred Provider. Additionally, her favorite treatments to perform include cosmetic dentistry, teeth whitening, fillings, crowns, bridges, dentures and implants.
While her dental knowledge is extensive, Dr. Blacher always stays up to date with the latest advancements in techniques, materials, and technology within the field.
My Life Outside of the Practice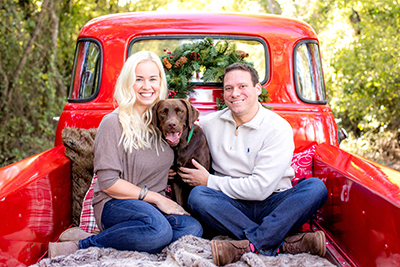 When she's not serving her patients at the practice, you'll find Dr. Blacher volunteering her time with the free dental day for Mission of Mercy and is a sponsor for Give Kids a Smile Day, which happens in February. She is a member of the Dallas Study Club, a branch of the prestigious Seattle Study Club, which focuses on interdisciplinary dentistry to provide the best treatment for patients. She also holds membership with the American Dental Association (ADA), Texas Dental Association (TDA), North Dallas Dental Society, and Academy of General Dentistry (AGD).
In her spare time, she enjoys traveling, cooking and fitness. You can also find her spending time with her Chocolate Labrador named Olive and her loving husband Jonathan. They are all quite excited to call Texas their new home.