Dr. Parham Akhavan DDS
Dentist
Dr. Parham Akhavan graduated from the University of California, Irvine with a Bachelor of Science in Biomedical Engineering. He dedicated his time to biomedical research prior to attending dental school and then received his Doctorate of Dental Surgery from New York University. Dr. Akhavan has extensive experience in all fields of dentistry and has completed multiple postdoctoral training and continuing education courses in many areas such as cosmetic dentistry, prosthodontics, pediatric dentistry, endodontics, and oral surgery. He feels it is his professional responsibility to be trained on the latest advancements to provide the best care to his patients. His engineering background has brought an artistic and detail oriented skill set to his conservative approach to dental treatment.
"I love what I do and I treat my patients with excellent care and as if they were my own family."
Dr. Akhavan's patients describe him as being very compassionate and caring. Dr. Akhavan have been married to his wonderful wife for over ten years and has two beautiful sons. When he is not brightening his patients' smiles, he loves to travel with his family, sample new cuisine, and play golf or tennis.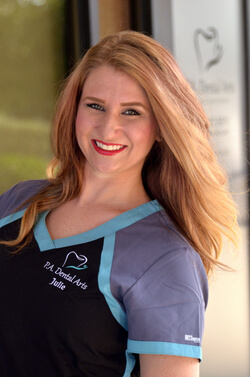 Julie
Office Manager
When you arrive for your appointment at P.A. Dental Arts, Julie is one of the friendly faces who will welcome you into our practice. She was born in California but has been living in North Texas for the past 20 years. She has been in the healthcare and dental industry for over 10 years and is very passionate about her work. Julie is very knowledgeable and experienced as both a dental assistant and a front office administrator. She is all about making you feel like you are at home and wants you to have the best dental experience possible. If you ever have any questions or concerns she is here for you.
Julie has a sweet, 8-year-old daughter, Kaylin, who keeps her very busy. They both love being outdoors and spending time together. Besides her daughter, Julie's other passion is dance. She has been dancing since she was 2 years old and is very proud of Kaylin who also enjoys dance and is currently taking tap and ballet classes at their family owned dance studio in Frisco.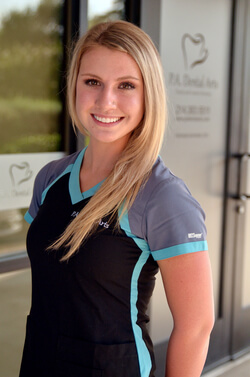 Jenni
Dental Assistant
Jenni was born and raised in Dallas and has spent most of her life in Northeast Texas. She loves seeing people smile, and that is part of what inspired her to become a dental assistant. Jenni is very passionate about her field and likes to help others understand the importance of proper dental hygiene and good dental care. She loves interacting with her patients and making them feel comfortable especially when they are anxious or fearful.
Jenni attended the Elite School of Dental Assisting in Forney. She has also attended multiple continuing education courses to gain knowledge and experience in multiple areas of dentistry, including the Dental Implant Continuum at Baylor College of Dentistry. She is also working towards a bachelor's degree in dental hygiene. Jenni and her husband recently bought a home in Princeton, TX. In her free time, she loves spending time with her husband and family, and enjoys fitness, sports, playing with her German Shepherd, and anything outdoors.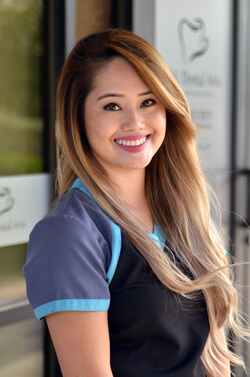 Tammy
Dental Hygenist
Tammy was raised in Dallas and obtained her Bachelor of Science in Biology from the University of Texas at Dallas. She then went on to obtain her dental hygiene degree from Texas Woman's University. Tammy loves spending her spare time with her family, especially her two year old nephew, and her two dogs. She also loves the challenge of playing golf, staying active doing spontaneous things outdoors, watching movies, and seeking out new restaurants on Yelp.
Tammy is passionate and values her patient's comfort. As her patient you can expect a gentle hand with a calming chairside manner to make you feel at ease.
"As my patient, I will listen to your concerns and help you achieve optimal oral health. It is important that I build a trusting relationship with my patients. I want my patients to feel valued and comfortable while in my care."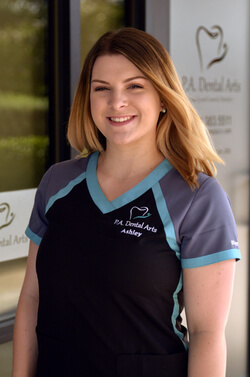 Ashley
Front Office
Ashley is a native Texan, born and raised in the North DFW metroplex. She has 6 years of experience in the customer service industry, and takes pride in giving you a great experience in our office. Ashley's goal is to ensure that you feel as comfortable as you would at home. When you arrive for your appointment, Ashley is one of the first smiling faces to welcome you into our practice.
She has a very outgoing personality that helps her relate to and communicate with patients.
Ashley has an adorable son, Declan, who is less than 1 year old. He keeps her active and sharp on her toes, since she is always chasing after him. Her other passions are photography, being outdoors, and spending time with family.
Our office is conveniently located in the Northwest Corner of Alma Drive and Hedgcoxe Road across the street from Tom Thumb. We are proud of our office, which fully utilizes state of the art dental equipment and follows the highest standards of care recommended by the American Dental Association (ADA), Occupational Safety and Health Administration (OSHA), and Centers for Disease Control (CDC).
We do our best to ensure that your visit is as comfortable as possible while keeping our patients' and our staffs' safety in mind at all times. Our rooms are thoughtfully designed with massage chairs and Satellite TV for our patients to relax and have a pleasant experience. Our waiting area is designed to be very calming and comfortable with complementary beverage station and satellite TV for our patients to unwind and relax after a long day at work or early in the morning before they start their day. Our friendly and competent staff is dedicated to our patients' comfort and quality care. We provide the best and latest in dental technology and treatment options.
We are passionate for what we do and we provide family-oriented dental care to the adults and children of this community. In addition to general dentistry and cosmetic dentistry, we provide specialty services such as Oral Surgery, Periodontics (gum diseases), Implant dentistry, and Endodontics (root canal treatments). Our team emphasizes on high quality, comprehensive care and preventive dentistry. We look forward to welcoming you to our state of the art dental office in Allen.
EMERGENCY DENTAL CARE
To schedule an appointment or if you or a family member need emergency dental care, please contact our Allen TX office today. CONTACT US